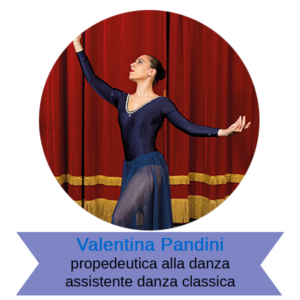 Nel 1997 inizia a muovere i primi passi nel mondo della danza classica seguendo il metodo RAD presso la scuola Artedanza di Cristiana Perasti; successivamente si avvicina allo studio della danza modern jazz con le insegnanti Raffaella Carminati, Mariella Citerio ed Elena Lorenzi.
Dal 2013 inizia lo studio della danza contemporanea con Nicola Bertelli.
Nel marzo 2014 supera l'esame vocational del grado Intermediate, esaminatrice Katherine Hamblin.
Nell'aprile 2016 supera l'esame vocational del grado Advanced Foundation, esaminatrice Stephanie Jane Webley.
Nell'aprile 2018 supera l'esame Royal Academy of Dance grado Vocational Advanced 1, esaminatrice Judith Vardy.
Nel 2004 partecipa allo stage estivo di Fondo (Trentino Val di Non) organizzato dalla Royal Academy of Dance.
Successivamente segue diversi stage in differenti discipline con insegnanti qualificati tra i quali: Matteo Corbetta (danza classica e sbarra a terra), Renata Justino ( danza classica), Roberta Botti (danza classica e repertorio), Nicola Bertelli (danza contemporanea), Michele Merola (danza contemporanea), Diego Tortelli (danza contemporanea), Francesco Gammino (danza contemporanea), ed Alfie J. Parker (musical theatre).
Con la scuola Artedanza prende parte a vari eventi, rassegne, spettacoli e concorsi nelle province di Bergamo e Brescia; nel febbraio 2017 partecipa all'evento "Danzainfiera" di Firenze dove studia con Sarah Lamb (principal al Royal Ballet di Londra) e Liliana Cosi (presidente dell'associazione Balletto Classico di Reggio Emilia).
Dal 2010 si interessa all'insegnamento intraprendendo un percorso formativo sotto la guida di Cristiana Perasti diventandone assistente.
Nel 2011 partecipa ad un corso intensivo sulla didattica per bambini tenuto dalla tutor Rad Roberta Botti e dal pianista Sandro Cuccuini.
Nel 2013 segue un corso di anatomia applicata alla danza presso Artedanza tenuto dalla direttrice Cristiana Perasti.
Nel gennaio 2014 partecipa al seminario "Approccio alla danza- ciclo preparatorio predisciplinare per bambini dai 4 ai 6 anni" presso l'Associazione Alidanza a Pavia tenuto da Silvana Burtulla.
Nel febbraio 2017 partecipa al corso formativo organizzato dalla Royal Academy of Dance Italy "Dance your own tunes" tenuto dalla tutor ed esaminatrice Renata Justino.
Nell'anno accademico 2012-2013 ha tenuto un corso di baby modern jazz presso le scuole elementari di Calcinate.
Dal 2012 al 2014 ha tenuto un corso propedeutico di danza classica presso la palestra di Montello.
Dal 2010 ad oggi è responsabile di alcuni CORSI PROPEDEUTICI DI DANZA CLASSICA delle sedi Artedanza di Pontida e di Ponte San Pietro.
Attualmente è iscritta al programma di formazione insegnanti della Royal Academy of Dance – Certificate in Ballet Teaching Studies (CBTS)