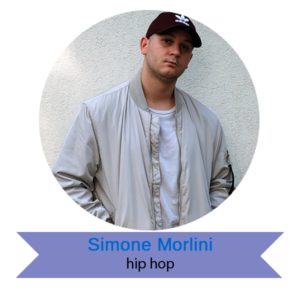 Inizia i suoi studi di danza in varie scuole di Bergamo, Milano e Brescia approfondendo gli stili dell'Hip Hop con insegnanti quali Marisa Ragazzo e Omid Ighani della NOHA Academy di Magenta che frequenta, Cristina Rosa, Davide Attuati, Cristina Longano e Silvia Iacono, ballerini della nota crew italiana The Collective.
Annualmente continuare a studiare con i migliori coreografi del panorama italiano.
Insegna Hip Hop New Style, Jazz Funk e House Dance.
Nel suo percorso di studi ci sono anche corsi di Dancehall e Voguing.
Coreografo della XO crew e della UNITY crew frequenta numerose gare nazionali come MantovaDanza, Valpolicella HipHop Contest, Milano e Ostia HipHop Festival e molte altre.
Nel 2013, grazie alla The Collective Experience, studia con i ballerini Giulia Salvatore e Emanuele Battista della nota Break Da Beat Crew da Roma e con Miguel Antonio, rinomato coreografo di Los Angeles.
Nel 2014, grazie alla The Collective Experience vol. 2, studia con le ballerine Eleonora Frascati, Flaminia Genoese, Morena Bonnici e Pamela Russello, alcune delle quali membre della crew N.ough, e con Filippo Ranaldi (X-Factor 2017, Amici 2018, Laura e Biagio 2019) e Alessandro Steri, i fondatori.
Nel 2015 studia con Gnammy Zambelli (Fellas Crew), Paola Tricerri, Daniele Baldi e Andrea Comuzzi (N.ough Crew, Laura e Biagio 2019).
Nel 2016 studia con Gwadis Humblet, ballerina belga (Liegi) e tiene uno stage di house e dancehall presso la scuola Sezione Danza di Suisio.
Partecipa, nel 2016 e nel 2017, al concorso BeTalent, evento bresciano che richiede una selezione per l'inclusione nella gara.
Grazie a stage organizzati dai The Collective studia con ballerini di tutto il mondo come Mecnun Giasar (dalla Germania), Spillo (da Roma – Reunion Studio, Amici 2019, Riki, Laura Pausini, Benji & Fede), Laurence Kaiwai (dall'Australia – Home Base Dance), Shady Salem e Beatrice Alessi (da Roma – Damnedancers e Le Edera, Italia's Got Talent 2019), Duc Anh Tran (R3D ONE Dance Communiti, Bucarest), Orlando Moltoni (da Roma – Buddha G, La Familia), Kerrie Milne (da Dublino – Fly Dance Studio, ex membro della Royal Family), Sergio Berreteaga (da Bilbao), Jesus Guia (da Roma), Jerky Jessy (da Parigi), Lamar Lee (da Londra) e Mattia Tuzzolino (da Roma – Amici 2019, Dance Dance Dance Italy 2017).
Nel 2019 partecipa ad uno stage a Genova ballando con Stefano Panatta (Buddha G, La Familia), Peter Valentin (N.ough – X-Factor 2017, Amici 2018/19) e Martina Toderi (ex membro della Royal Family).
È insegnante di HIP HOP presso la nostra scuola.